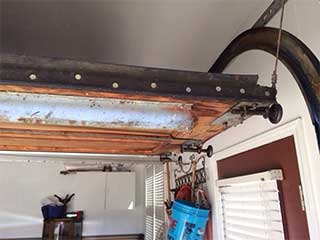 Your garage door's proper operation depends on a lot of different moving components. It can therefore be quite daunting to attempt to attend to the entire system when it comes time to do some maintenance work.
Well, our professional repair technicians in Simi Valley have a unique service to offer you.
Scheduled Maintenance
You set up an appointment and our guys (or gals) come over and give your system a thorough examination. We'll repair or replace on the spot any part that is found lacking, and we'll then proceed to apply special lubrication to all the necessary moving parts, such as the springs and hinges of your door. Once that's done, our experts will move on to the second stage of the process.
Eye-Sensor Testing
Your garage door's sensors, also known as "photoelectric receptors", are responsible of detecting an object is blocking the door's moving path. Once such an obstacle is detected, the system goes into reverse in order to avoid closing down on it. Our specialists always make sure to test out your system's sensors during every maintenance appointment, to ensure their lenses aren't blocked and that they are aligned correctly.
Reverse System Testing
Another safety mechanism our experts check is the automatic reverse system. This system has become an industry standard requirement for many automatic door system. What it does is – it forces the door to go into reverse if it comes into contact with something while it's trying to close. Let's say an object has been missed by the eye sensors, and the door has started to close down on it. Once your system will "feel" a slight resistance it will stop closing and open back up. Our technicians will make sure the force limit of your system is properly calibrated so that your garage door wouldn't even be able to hurt a fly.
Leave it To The Experts
Garage doors should only be handled by professional technicians, as any mishandling of their components can lead to physical injury and/or property damage.
Call today to reach our experts at Garage Door Repair Simi Valley and get the most affordable, yet top-quality service in town.
When it comes to your door, we don't settle! We also offer:
Garage Door Tune Up Services
Belt Drive Garage Door Openers
Garage Door Extension Spring Replacement