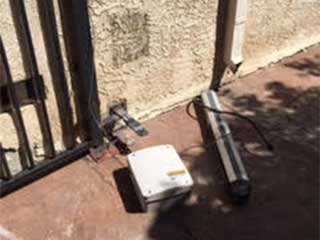 Our established company is at your service at all times if you need assistance with your gates or garage doors. We are not just known for garage doors but we are also experts in handling different kinds and brands of residential and commercial gates. Our staff has decades of experience so you can be assured of our knowledge and expertise in everything that we do.
We Can Handle Every Problem
As part of our dedication to our clients, we offer emergency response services. Our team at Garage Door Repair Simi Valley his always prepared to face any situation, and we always come equipped with all the right tools and necessary replacement parts. No matter what type of service you need, we can handle it professionally and efficiently.
Gate Opener Replacement
Our technicians can easily identify what's wrong with your gate opener, most of the times, a simple fix or part replacement is enough to bring the unit back to normal. If it's a worn-out gear or a misaligned safety sensor, we can easily solve the problem. On rarer occasions, when a complete opener replacement is required, we can also be of service. We have different models available, so we can easily get you one that is fully compatible with your gate.
Professional Gate Maintenance
To make your gate system last for as long as it can, you can entrust the maintenance aspect to our expert technicians. We'll perform all the necessary routine inspections and adjustments with great care and immediately repair any issue that we discover. We're always happy to give helpful tips to our clients so they can perform a few minor maintenance tasks on their own. Their gate will certainly appreciate it.
New Gate Installation
If its wrought iron or smooth wooden panels that you want, we can help you find the best type of gate out there, taking full consideration of your specific needs and requirements as far as safety and security are concerned. We'll then get it properly installed for you, making sure that every part is functioning correctly.
Call today to have our professional technicians at Garage Door Repair Simi Valley take care of all of your gate related needs.
We also take care of:
Sliding Gate Safety Sensors