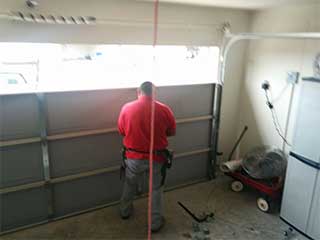 No number of DIY tutorials can properly teach the average homeowner how to replace parts in their garage door when it stops working. This is not a slight at the writers of such tutorials, it's just that these complex systems can be extremely dangerous to handle without the proper training, and therefore any repair work should never be attempted by amateurs. If you find yourself in need, it's time to call our professional technicians.
Seals Keep Your Garage Dry
At Garage Door Repair Simi Valley, we try to let all our customers know how important it is to keep your garage door sealed tight against the elements. It will help keep water and even small animals out of your home. You will need to make sure you use seals of the correct thickness and size to keep your space dry. Our experts have a variety of different sizes, colors, and types of seals available for the top, bottom, and sides of your garage door.
Bearings and Bushings
In order for garage doors to move smoothly along their track, their bushings and bearings have to be of the highest possible quality. By using high-quality parts, your door will stay at an optimal condition for as long as it can.
Spring Bumpers
This is another part that often needs to be replaced. These components are very important as they ensure that the system operates safely. If your bumpers are old and need to be replaced, you can rely on our company to install new ones of the perfect size and type.
Get In Touch With Us Today!
It's always important that you call our expert team at Garage Door Repair Simi Valley, no matter how small the problem you're facing seems to be. We can ensure that the required work is done both professionally and quickly.
But wait, there's more! We also offer:
Part Replacement & Repair
Remote Opener Clicker Replacement
Torsion Spring Adjustment
Track Replacement & Repair