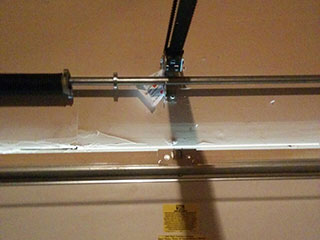 Your garage door, just like every other piece of equipment, requires maintenance and attention. The spring mechanism that opens and shuts the door will eventually stop working under extreme pressure and your door will not open. Luckily, this is where we come into play. Our team has the tools, parts, and over a decade of experience so you can rest assured your door will be up and running safely and smoothly in no time!
Replacing both springs
The majority of garage doors on the market feature a two-spring system and once one of them breaks we recommend you replace the remaining one as well. This procedure will ensure your door is safe to use in the future and will minimize the need for further interventions.
Types of Springs
When assessing the most suitable repair method for your garage door, you need to be familiar with the main two types of springs, torsion and extension. Torsion springs are the most commonly used in the industry and are located just above the torsion shaft of your door. Amateur handling of these parts sometimes causes serious injuries due to their extremely high tension. With your safety in mind, we always recommend you contact a professional technician rather than trying to do it yourself. Extension springs lift your door by stretching and compressing, thus counterbalancing the door's weight.
How Much Will it Cost
When assessing your individual rate, we have to take in consideration several factors including the size and the weight of the door and type of the springs you need. We recommend our technician takes your measurements before giving you the exact quote.
Let Us Help You
Regardless of the size of and type of your springs, you can always count on our team at Garage Door Repair Simi Valley when you require prompt and professional service. We guarantee a quality service that will allow your door to operate safely and reliably for many years to come.
We also offer:
Roll up Garage Door Maintenance
New Opener Remotes & Clickers
Garage Door Cable Replacement
Extension Spring Adjustment